Schengen Visa for Germany from Pakistan
The highly developed social market economy of Germany is the largest national economy in Europe and the fourth largest in the world after the US, China, and Japan. The rapid economic growth, business-friendly, and welfare policy for the public have earned Germany the rank of the most powerful nation in Europe. As Germany lies in the Schengen region, its nationals enjoy the benefits of the Schengen Agreement, for example, no visa policy, and free movement across this zone. However, non-European nationals have to apply for a Schengen visa for Germany in order to obtain entry. The 26 countries that fall under the Schengen Agreement are:
Belgium
Latvia
Austria
Denmark
Switzerland
Iceland
Netherlands
Czech Republic
Finland
Luxembourg
Slovakia
Hungary
Poland
Estonia
Liechtenstein
Germany
Spain
Italy
France
Malta
Greece
Sweden
Lithuania
Portugal
Norway
Slovenia
The Schengen visas are short-term visas, which have a validity of 180 days. Normally an applicant can stay up to 90 days within the period of 180 days. Although visas issued by one of the above-mentioned states are valid for all other Schengen countries, you need to apply at the embassy or consulate of the country, in which you intend to stay the most number of days. An individual who has attained a Schengen visa for Germany from Pakistan can travel to all Schengen states depending on the type of visa applied for e.g. single entry or multiple entry visas.
Pakistani citizens who wish to stay in Germany for a short period to spend vacations, attend social and cultural events, educational seminars, and business conferences, meet family and relatives, participate in trade fairs and take a training workshop are required to apply for Schengen Visa for Germany. You must submit the Schengen visa application at the embassy or consulate of the country, which is your main destination.
In case, you are applying for a Schengen visa for Germany from Pakistan, the applicants from Punjab, Khyber Pakhtunkhwa, and Gilgit-Baltistan should make an online appointment with the Embassy in Islamabad. Applicants from Sindh & Baluchistan should meet with the Consulate General in Karachi.
Schengen Visa for Germany Requirements:
Although Schengen states have a uniform immigration policy pertaining to visa documents, the consulate general or embassy of a specific country may ask the applicant to submit additional documents for further examination. The general Schengen visa Germany requirements are:
Downloading of the Schengen visa online application form and filling it with accurate and complete information, to the best of your knowledge.
2 latest passport format photographs with full face capture in high quality. The background of the picture must be in light colours.
Individual applying for Schengen visa for Germany from Pakistan must have a passport with at least two blank pages. Copies of previous visa and passport are required. The passport should be at least 3 months valid beyond the date of return.
You need a cover letter mentioning the reason for visiting Germany and the itinerary. You must attach a covering letter with the Germany visa application, providing your information on the following aspects.
Confirmation of a Travel Health Insurance policy of 30,000€ is required in order to provide coverage for Germany and other Schengen state for medical purposes.
Flight Schedule with flight numbers and dates clearly telling the entry and exit schedule from Germany
Details of accommodation
Proof of sufficient funds
Purpose of visit
Familial, Economic and personal ties with Paksitan
If the individual is applying for Schengen visa for Germany from Pakistan for the film crew, religious, culture or sports purposes, the invitation letter for Schengen visa from the authorities conducting such activities or events is required.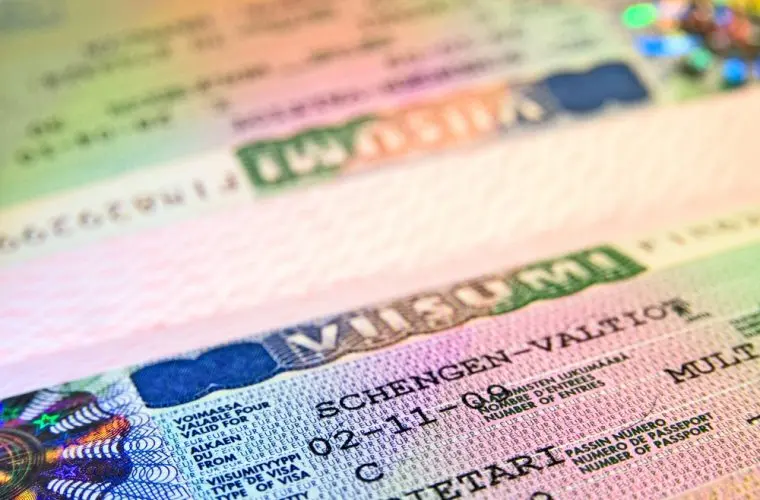 Schengen Visa for Germany Application Fee:
For individuals applying for Schengen visa Germany from Pakistan, the application fee is 60 €
Schengen Visa Application Procedure:
The online appointment has to be made for an interview and biometric. Once you submit the visa application, the legal TAT (Turnaround Time) of processing the Schengen visa for Germany from Pakistan is 15 days. In individual cases, the processing time may extend from 15 days up to a maximum of 30 or 60 days. It is advisable to make an appointment in advance of your date of departure so that you submit your application at least three to four weeks before the intended date of travel. However, it should not be earlier than 3 months before your departure date.
An applicant must fully comply with the immigration policy of a country he/she intends to travel to and provide complete information in the visa application with sincerity and to best of his/her knowledge. Incomplete information and documents result in visa rejection.
It is advisable to hire only the best Schengen visa consultants in Pakistan to avoid any dismay.UK Visa Consultants is one of the most experienced immigration consultants in Pakistan for handling Schengen visa applications. Our expert immigration, lawyers and solicitors not only provide detailed consultancy for Schengen visa but also for Canada visit visa, US visit visa, General Visit Visa UK, Family Visit Visa UK, Business Visit Visa UK, Entertainer Visit Visa UK, PLAB Visa UK, Parent of a Child at school Visa UK, Sport Visit Visa UK, Private Medical Treatment Visa UK, Permitted Paid Engagement Visa UK, Tier 1 Entrepreneur Visa UK, ILR for Tier 1 Entrepreneur Visa UK, Tier 5 Creative & Sporting Visa UK, Tier 5 Religious Workers Visa UK, Sole Representative of Overseas Business and Employees Visa UK, Visitor for Marriage Visa UK and Spouse Visa UK to a wide range of clientele. We prepare your case meticulously taking personal, financial and familial factors into account and provide authentic advice on the relevant documentation optimizing the chances of success of Schengen visa application.